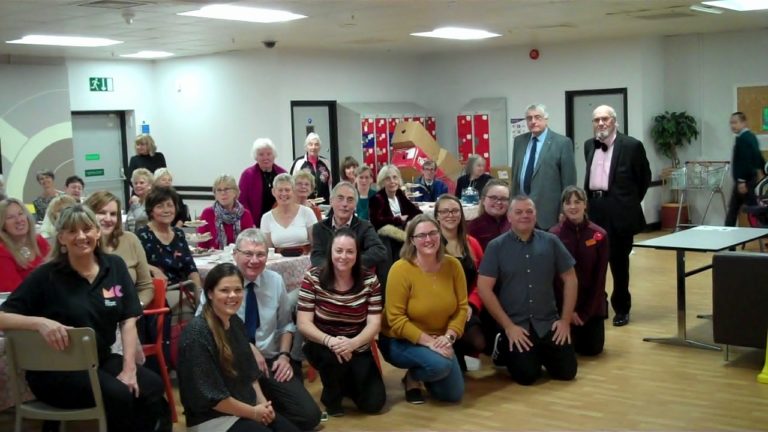 Surrey Heath Age Concern – Supporting the community during COVID19
06 May 2020
'Surrey Heath Age Concern (CIO) has had to become more flexible in its support of the elderly community across the Borough of Surrey Heath. We have had to adapt our service provision for the safety of our volunteers and the elderly people we serve, said Tracy Hiney, Surrey Heath Age Concern.
'Unfortunately, Covid19 has meant the temporary closure of the Rainbow Café, in Camberley town centre. This important provision has served the community well for a long time; it was a focal point for the elderly people of the Borough who could always pop in for a chat and friendly smile. With this suspended service provision, the weekly Tea and Memories afternoon tea and the monthly Tea and Chatter tea parties have also had to be put on hold.
'The Visiting and Befriending Service provision continues to operate 52 weeks a year: prior to the lockdown over 50 volunteers visited around 60 lonely, isolated older people across the Borough. This essential service has adapted and our volunteers continue to support their "befriendee" however this vital communication has transitioned from a face-to-face service to a regular telephone befriending service. Our volunteers call their befriendee regularly to check that they are well and supported, to have a catch up and perhaps a chat about anything that may be worrying them at this uncertain time. This temporary change ensures that the mutual friendship/relationship continues.
'Throughout the duration of the lockdown both the Charity Manager and Angela Harding Befriending Co-Ordinator continue to operate the Charity including supporting the volunteers and their befriendees during this crisis; providing additional telephone befriending, support with shopping, collecting prescription's etc.
'In addition to the existing service provision Surrey Heath Age Concern CIO is working collaboratively with local agencies including Surrey Heath Prepared, Surrey Heath Borough Council and Voluntary Services North Surrey.
'We are looking forward to the time when restrictions are lifted, and our service provision can resume so we can continue to build and maintain relationships with the elderly people we support.'
If you would like to volunteer or know more about Surrey Heath Age Concern or their services, please email [email protected]
For more information please contact Tracy Hiney
Surrey Heath Age Concern CIO
20 Salisbury Grove
Mytchett
Surrey
GU16 6BP
Mobile: 07902 772585
Web: www.sh-ac.org.uk
Twitter: @SHACinfo
Facebook: @SurreyHeathAgeConcernCIO
Our causes are on track to raise £25,552.80 this year
819 tickets of our 3,570 ticket goal
More top stories

First £25,000 Jackpot Winner on the Surrey Heath Lottery!
The Surrey Heath Lottery has its first £25,000 jackpot winner. The lucky winner, who has asked to remain anonymous, was delighted to find out about her amazing prize, and is very happy to see...
08 December 2020
Back to full list
Our causes are on track to raise £25,552.80 this year
819 tickets of our 3,570 ticket goal